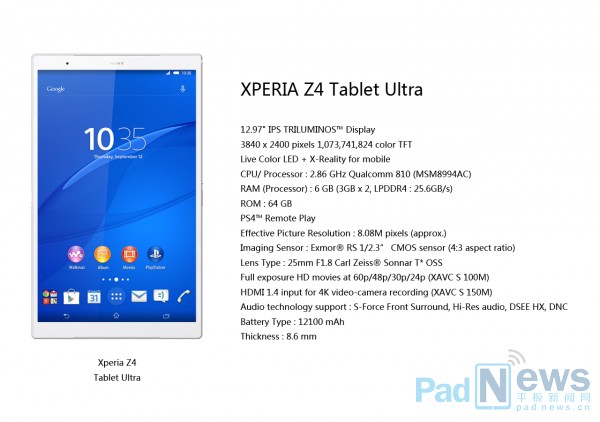 If this rumour is anything to go by or belief, then we are in for a LapTablet or what can I call this massive 13 inch Xperia Tablet. I know that some Laptop do not have 13 inch and here is a tablet so massive rocking that size. Sony is expected to launch the Z4 generation of its flagship devices soon and we've already seen initial rumors for the lot – the Xperia Z4, a compact version, a phablet version and a Z4 Tablet. A new rumor alleges that there will be one more device, a 13" tablet.
Its to be known as the Xperia Z4 Tablet Ultra (not to be confused with the Z4 Ultra phablet), the rumored specs sound more like a wishlist than those of an actual 2015 device. We start off with the unusual screen, Triluminos IPS with X-Reality, of course, which will supposedly have 3,840 x 2,400 resolution – that's 16:10 4K UHD.
Other Specs are:
A Qualcomm Snapdragon 810 with a max CPU clockspeed of 2.86GHz
6GB of RAM (2x 3GB LPDDR4)
64GB of storage
PS4 Remote Play support
Camera – an 1/2.3" Exmor RS sensor with an f/1.8 Carl Zeiss Sonnar T* lens and just 8MP resolution.
Thickness 8.6mm
Power 12,100mAh

Expect to launch in 2014.