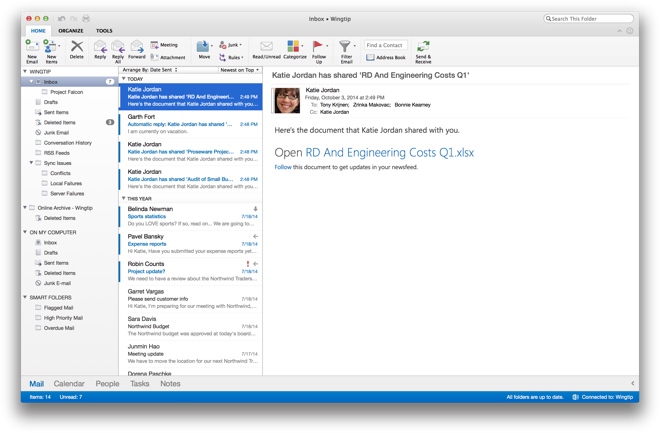 Screen Shot of New Microsoft Outlook for Mac
If you use Outlook for your mails, you will love this new look of Microsoft Outlook in Mac by Apple. Recently, a new version of Office for Mac was leaked. Although that is still in development, Microsoft has gone ahead and released the Outlook mail client for the Mac.
The new Outlook features a redesigned UI, new features, and improved performance. It is now available for download to Office 365 users. The new Outlook for Mac includes:
Better performance and reliability as a result of a new threading model and database improvements.
A new modern user interface with improved scrolling and agility when switching between Ribbon tabs.
Online archive support for searching Exchange (online or on-premises) archived mail.
Master Category List support and enhancements delivering access to category lists (name and color) and sync between Mac, Windows and OWA clients. Office 365 push email support for real-time email delivery. Faster first-run and email download experience with improved Exchange Web Services syncing.
Microsoft also revealed that it will be releasing a public beta of Office for Mac, including Word, Excel, and PowerPoint for Mac, in the first half of 2015, and the final release in the second half of 2015. This will be available for Office 365 customers free of cost.