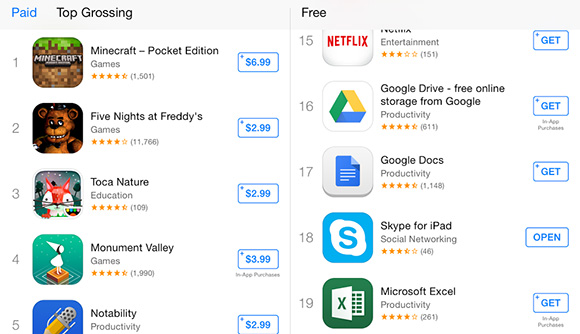 According to our Source, The Tech Giant Apple had dropped the "free" moniker from the apps and games in the App Store. Immediately, the "FREE" button on the apps and games that don't require any payment will make way to a "GET" the new replacement. Though am yet to see the new "GET" on my iOS device iPhone 5, but it might be network dependent or they are rolling it bit by bit.
So be on the look out for the change if you see it then let me know.
Apple is the latest industry heavyweight to react to criticism to the free-to-play business model with in-app purchases, especially by regulators in the European Union. Critics have pointed that the aforementioned content delivery method often forces players into spending money in order to enjoy proper app or game experience.
The free-to-play business model is the current standard on both iOS and Android. The setup is responsible for 92% of all revenue on iOS and 98% of the same on Android. Curiously, most of the revenue comes from high spending users, whose money essentially provides for the experience of those who are not willing to part with any money.